Choosing a Provider
When you find out that you're pregnant, one of the first steps on your new to-do list is to search for a provider. You may know some people who went to a midwife for care, but in the United States, most women will go to an OB/GYN during pregnancy for all of their prenatal checkups. So what's the difference? Why would some people choose one kind of provider over the other? Let's take a closer look.
What is an OB/GYN?
An OB/GYN is a board-certified physician trained in the medical management of pregnancy and birth. They are trained surgeons who are skilled and knowledgeable about managing the complications that can come up during pregnancy. They can also perform a cesarean section.
An OB/GYN is the most educated about the medical management of problems that can occur during pregnancy and birth. They are educational sources of information on how to deal with issues, infections, complications, and abnormalities that may occur during pregnancy. OB/GYNs usually work in the hospital setting. Some may have a private practice, but others work in a group model of care.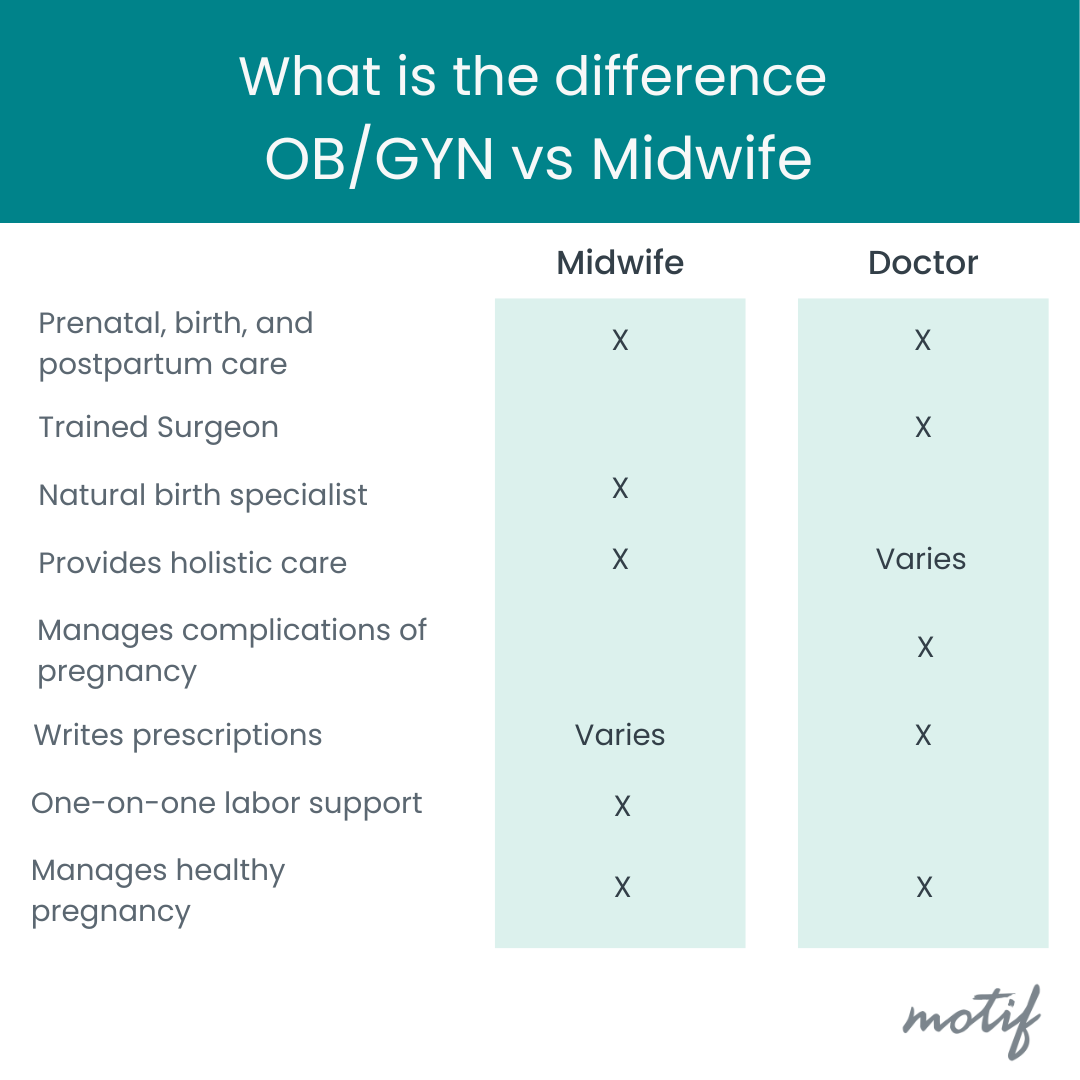 What is a Midwife?
A midwife is a certified healthcare practitioner who sees pregnancy and birth as natural life events. They are trained and knowledgeable in traditional, natural birth. They are an excellent source of information on how to stay healthy during pregnancy and how to physically and emotionally prepare for birth. Midwives are the experts in unmedicated childbirth. They can help you naturally support your body to prevent pregnancy issues.
They are skilled in how to manage complications that can arise during birth. Midwives work both in the hospital setting and outside of the hospital. You can also find midwives who practice independently or that work in a group model of care.
How do you choose a provider? You'll want to ask yourself a series of questions to find the answer, so let me start helping you figure that out.
Low or High Risk
The first question to ask is this--Is your pregnancy low-risk? If your pregnancy is low-risk, you can choose any maternity care provider in your area. How do you know if you are low-risk? If you aren't currently taking any medications and do not have medical conditions that affect your health, you are a low-risk pregnancy. If you are high-risk or become high-risk because you find out you're carrying multiples or if a pregnancy complication occurs, then you would want to see a physician who can help keep you and your baby healthy and safe for the remainder of the pregnancy.
Birthing Location
Where do you want to give birth? This is an important next question because you'll want to pick a provider who attends birth in the location of your choice. The place where you give birth can affect how your birth goes as much as your care provider, so it's important to put some thought into the birth location. And I don't just mean home vs. birth center vs. hospital! Hospitals can have very different c-section rates, VBAC success, and episiotomy rates, so if those are important to you, you'll want to look into them before you make a decision.
Midwives are best known for their support of out-of-hospital births. If you want to give birth at a birth center or home, then you are probably going to look for a midwife who delivers in those places. There are a handful of doctors who attend home births in the United States, but most doctors only attend hospital deliveries.
Epidural
Do you plan to get an epidural? Both a doctor and a hospital-based midwife can do this for you! Out-of-hospital-based providers, on the other hand, will not be able to give you an epidural.
Supportive Practices
Emotional Support
Do you want someone to help you prepare emotionally for birth and parenting? This is one of the benefits of hiring a midwife. Both a doctor and midwife are going to make sure that you and baby are healthy and your pregnancy is progressing normally, but a midwife sees you as a whole person—your physical, emotional, and spiritual self will be part of your birth. Midwives want to help you fully prepare for the big day and can help answer your personal questions.
Labor Support
Do you want your provider to be the one with you while you're in labor? This one-on-one labor care is the specialty of midwives. Doctors are assisted by nurses. The nurses will be the ones who are checking on you and the baby during labor. They will update the doctor and follow their directions for the next steps, but for the most part, the hands-on care during labor is provided by the nurse. Midwives are known and loved for their individualized care, both during pregnancy and birth. They get to know you during your prenatal appointments and then they are the ones who help meet your birth preferences on the big day.
---
Information provided in blogs should not be used as a substitute for medical care or consultation.