Replacing Breast Pump Accessories
Regularly replacing your breast pump accessories is a vital practice for ensuring the efficiency and hygiene of your breastfeeding equipment. However, it's equally important to consider what to do with the parts you've replaced. Surprisingly, several of these components can be repurposed and given a second life through the process of recycling, and you can conveniently include them in your standard household recycling bins.
This sustainable approach not only contributes to reducing waste but also minimizes the environmental impact of these materials. By recycling, you help divert these accessories from landfills, where they may take years to decompose, and instead, they can be transformed into new products. It's a small yet impactful step towards responsible waste management, and this guide provides valuable insights and instructions to assist you in effectively and eco-consciously managing the disposal of your breast pump components and accessories.
Recyclable Parts
Here's a list of hard plastic accessories that can be recycled in your regular household bin when using Motif breast pumps:
Breastshields

Bottles

Bottle caps

Bottlenecks

Bottle sealing discs

Backflow protector casing

Valves (excluding the membrane)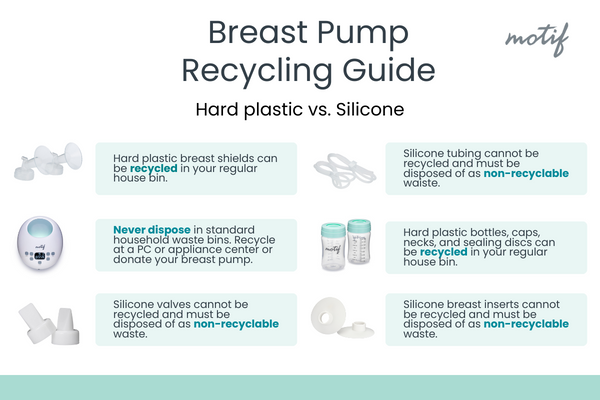 Silicone components, unfortunately, cannot be recycled and should be disposed of. Silicone components, such as tubing, valve membranes, duckbill valves, backflow protector membranes, bottle nipples, and massaging breast shield inserts, cannot be recycled and must be disposed of as non-recyclable waste. Unlike certain hard plastics that can find a second life through recycling, silicone materials do not typically fit into the standard recycling processes used for household items.
Due to the nature of silicone, which is a durable and flexible material often used in medical-grade accessories, it doesn't easily break down or decompose like other materials. As a result, responsible disposal is crucial to minimize environmental impact. When discarding these silicone parts, it's advisable to follow local waste disposal guidelines to ensure they are disposed of safely and in an environmentally responsible manner.
Silicone Parts
Tubing

Valve membrane

Duckbill valve

Backflow protector membrane

Bottle Nipples / Teats

Massaging breast shield / insert accessories
Unlike certain hard plastics that can find a second life through recycling, silicone materials do not typically fit into the standard recycling processes used for household items.
What About The Breast Pump?
Recycle
Certainly, your old breast pump can indeed be recycled, but it's important to note that this process requires a specialized approach. It's important to note that you should never dispose of your breast pump in standard household waste bins because the batteries and electronic components can be harmful to the environment. To ensure responsible disposal, consider reaching out to your local authorities to locate a nearby PC or appliance recycling center where you can safely and eco-consciously dispose of your breast pump.
To recycle it, you'll need to take it to an appliance or PC recycling center. These facilities have the expertise to disassemble electronic devices and employ techniques like melting down components for reuse in new products.
Donate
Breast pumps have a warranty for optimal function and efficacy, and for this, it is not recommended to share or "donate" your pump after you have used it beyond the timeframe of this warranty or lifespan. However, gently- or rarely-used Motif pumps can be donated or gifted safely, as they have a closed filtration system. A closed-system breast pump collects milk in a safe, protected space that is free from outside contamination. By using closed gateways, it keeps the tubing that leads to the motor bacteria and mold-free. This keeps you and your baby safe, despite occasional and inevitable tipping that may occur. All Motif Breast Pumps are closed systems.
---
Information provided in blogs should not be used as a substitute for medical care or consultation.