Introduction to Traveling with Breastmilk
The summer months are approaching fast, and vacation is calling our names! If traveling with breast milk is on your mind, we can can cover ways to make this less of a hassle! By now you may already have your stash developed or have a pumping routine in place, but now there is planning needed to transport the milk, whether fresh or stored. Whether you are taking a road trip or are flying across the country, knowing how to store the milk you bring, or pump, along the way is imperative to save the integrity (and time spent!) You may find that taking it along with you is best, while shipping breast milk might be a better option for some.
The first things that come to mind are knowing the method in which you're traveling, planning accordingly with materials, and knowing the approximate amount of breastmilk in which you will need along the way, or in other cases, how much you are bringing back with you!
Before you travel you need to know:
How you're traveling (car, plane, etc.)
Do you need to pump, are you also breastfeeding directly
What materials, accessories, equipment needed to pump and store
How much breastmilk you need to bring / return with
How to handle frozen milk (being mindful of thawed breastmilk handling)
What comfort measures will you need, such as nursing covers or pumping / breastfeeding nooks if you need quiet or discretion
Is a shipping service for your breastmilk to your destination / sending milk home a better option, such as Milk Stork
Milk stays great at room temperature, with a nice 4 hour time span. If going on a short flight or smaller road trip, extra refrigeration or freezing may not even be needed. Store breast milk in small, usable amounts to avoid waste.
Flying with Breastmilk
According to the Transportation Security Administration (TSA) , the screening process and carry-on baggage are not the same for breast milk .
TSA guidelines state to notify a TSA agent at the security checkpoint, separate the stored breastmilk, cooler bag, and pump parts, bottles, etc, from the carry-on baggage, and do not include melted gel packs or melted ice packs, or they will may counted toward the overall liquid amounts rule and screening procedures. Pumped milk is considered a medically necessary liquid.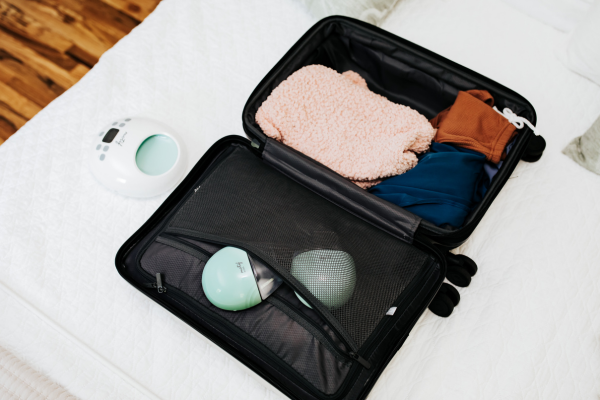 Preparing for Traveling and Breast Milk Storage
Breast pumps are considered medical devices, as they are necessary for many lactating mothers to protect their milk supply and avoid complications, such as infections and clogged ducts. Other medically necessary accessories include your bottles, milk storage bags, coolers for expressed milk or formula, and any pumping accessories.
Using milk storage bags, which are great for labeling fresh or frozen milk storage, store an approximate feeding's amount, which on average is 2-3 ounces for babies under 6 months of age. This helps minimize liquid gold waste, allows even temperature regulation and quicker cooling time, and stores in compact bags, freezers, and coolers beautifully.
Make sure to date and practice good inventory: First in, first out/used.
Materials Needed
Breast Milk Storage Bags

Sharpie or pen (for marking dates)

Ice or ice packs/gel packs

Cooler or insulated lunch box/cooler bag

Breast pump, pumping accessories (Unless breastfeeding baby directly, only), adapter for charging

Separate bag, like a pump bag, from carry-on and checked luggage to keep expressed milk, breast pump, breast pump accessories
You want to enjoy your traveling experience, so pack anything you can to avoid making breastfeeding a battle ground while flying or driving will be useful.
Frozen Breast Milk
Frozen breast milk needs to be kept as close to freezing temperatures as possible if it will not be needed right away. Once breast milk thaws, and no ice crystals remain inside, the milk needs to be used within 24 hours, and kept in the refrigerator, or in this case, the cooler, in between uses. If ice crystals still remain, the milk can actually be refrozen safely in the freezer. Milk can also be frozen if within 5 days of having been pumped, not drunk from, and kept in the refrigerator!
Coolers
Once the amount of breast milk needed is known, use an appropriately sized cooler or insulated cooler bag that will fit both the milk and the ice, gel packs, or freezer packs.
Friendly Airports for Mothers Act
If you need a quiet or discreet area that also clean, many airports now have pods within the airport for just that. Some restroom areas may also have separate spaces designed for nursery and feeding purposes.
"An act to amend title 49, United State Code, to require small hub airports to construct areas for nursing mothers, and for other purposes. Be it enacted by the Senate and House of Representatives of the United States of America in Congress assembled, SECTION 1. ø49 U.S.C."
https://www.govinfo.gov/content/pkg/COMPS-15817/pdf/COMPS-15817.pdf
3-1-1 Liquids Rule Exemption (From the TSA)
Formula, breast milk, and juice in quantities greater than 3.4 ounces or 100 milliliters are allowed in carry-on baggage. These do not need to fit within a quart-sized bag. Remove these items from your carry-on bag to be screened separately from the rest of your belongings. You do not need to travel with your child to bring breast milk.
Ice packs, freezer packs, frozen gel packs and other accessories required to cool formula, breast milk and juice are allowed in carry-on. If these accessories are partially frozen or slushy, they are subject to the same screening as described above. You may also bring gel or liquid-filled teethers, canned, jarred and processed baby food in carry-on baggage. These items may be subject to additional screening.
Your flight attendant can also assist in where to keep your additional baggage.
Another quick note, if bringing a breast pump, this is considered medical equipment, according to TSA regulations, and must not be charged for or combined with checked bags weight.
Friendly Airports for Mothers Act
"TSA X-ray machines do not adversely affect food or medicines. However, if you do not want the formula, breast milk, toddler drinks, and baby/toddler food (to include puree pouches) to be X-rayed or opened, please inform the TSA officer. Additional steps will be taken to clear the liquid and you or the traveling guardian will undergo additional screening procedures, to include Advanced Imaging Technology screening and additional/enhanced screening of other carry-on property."
TSA Website : https://www.tsa.gov/travel/special-procedures/traveling-children
Travelers requiring special accommodations or concerned about the security screening process at the airport may request assistance by contacting TSA Cares online at http://www.tsa.gov/contact-center/form/cares or by phone at (855) 787-2227 or federal relay 711.
---
Information provided in blogs should not be used as a substitute for medical care or consultation.