The Complete Guide to Manual Pumping
From capturing breastmilk that would otherwise be wasted to being extremely portable and efficient,
a manual pump
is a great product for any breastfeeding or pumping mom. In this blog, Motif's lactation director and IBCLC covers the benefits, how-tos, tips, and tricks of this essential motherhood product.
And if you're interested in getting your own or learning more, check out Motif's manual silicone breast pump! You can get yours
here
!
Manual pumps come with many names, but are mostly known as a "hand pump." Though not designed for "high volume" or exclusive pumping needs, manual pumps are a great way to fulfill various pumping needs that do not require the power of an electric pump or would actually fare better with the gentler strength of one, and for many, can be a lot easier than hand-expressing. There are two types that typically are available: repetitive action and single-squeeze, the latter using the suction power of the initial squeeze to stay attached, gently administering a vacuum to draw out milk.
When to Use a Hand Pump
When would these types of pumping come into play?
Examples:
Catching the "letdown"
Nipple priming / latch training
Portable Pumping
Occasional collection for bottle feeds
Clogged milk ducts
Engorgement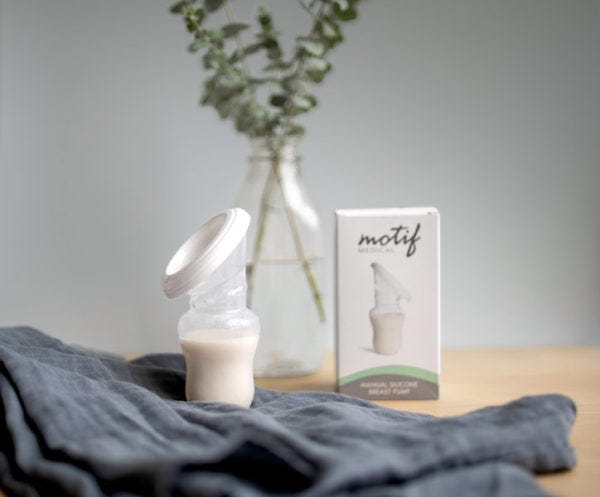 The Benefits of Manual Pumping
Catching the "Letdown"
Perhaps the most-used reason for manual pumps, especially the single squeeze designs. For the first few months, breasts will often leak from both sides, regardless of which side is being fed from. Collecting this otherwise-wasted milk is an easy way to accumulate milk to save and take pressure off of the "milk stash" requirements a mom may need.
A word of caution: Milk expressed usually means it will be replaced, or even increased supply. This should not be used for every feed unless there are diagnosed* low-supply issues**, as it could cause an oversupply and issues associated with that. Instead, utilize the pump during a couple of morning feeds, then take a break! *Not self-assessed. **A lactation professional can help assess for true low supply.
Nipple Priming
Nipple priming refers to the gentle stimulation that draws the nipple out for attachment, but also triggers the Milk Ejection Reflex (MER), also known as the "letdown." This is especially useful for babies who have had difficulties or obstacles with latching. If a baby has mainly had a bottle, he or she may become frustrated when put to breast, not knowing to draw the nipple out to create the firmness they are used to.
Nipple priming is also a useful technique for mothers who have a harder time responding to a pump or hand expression. Implementing a few minutes of nipple priming can make both a little easier!
Portable Pumping
A manual pump is small, lightweight, quiet and discreet, and does not require batteries or an outlet. This is ideal for taking on-the-go, having a night out, or even using while in the car. It easily fits into a diaper bag or medium-sized purse, making it great to have "just in case."
Bottle Feeding
Having a girls' night? Datenight? That precious time you get to grocery shop by yourself? Using a manual pump can easily provide a quick feed or two to allow you some time away without needing to hook up to a pump.
Clogged Milk Ducts
It can happen to anyone: That
fatty milk buildup
keeping a duct or ducts from clearing. That pressure is uncomfortable, and often painful. Milk flow is crucial in keeping the ducts clear of bacteria that cause mastitis, an infection of the breast tissues. It can be due to poor latching, inconsistent feeds or latching, and oversupply, the internal pressure not allowing proper clearing. Utilizing a manual pump can help collect and remove clogs without the factor of high strength, which can actually increase blood flow to the area, furthering internal pressure and discomfort.
Pro Tip: Fill a single-squeeze vacuum pump with warm water and salt (homemade saline) for added comfort and clog-release!
Engorgement Relief
Sometimes the pressure from milk build up can make the areola and nipple balloon out, making it quite difficult for a baby to latch on. Without relief, that pressure feeds the problem. A hand pump can
provide gentle relief
without the strength that further aggravates internal pressure and without the need to have baby latch on.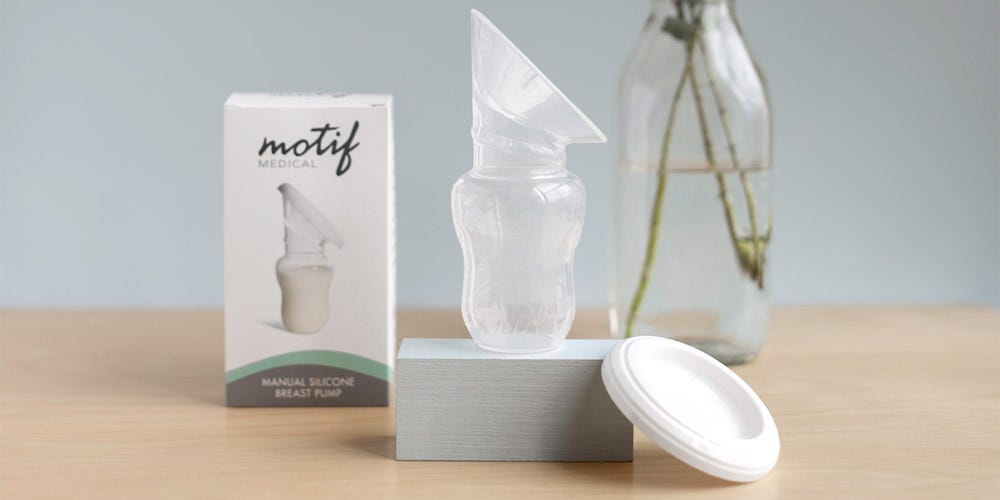 How to Use a Hand Pump
Clean & Sterilize Your Manual Pump
Just like any other pump, make sure parts are cleaned and sterilized, even brand new. Silicone pumps can be washed in the dishwasher, too, where they are both cleaned and sterilized. If manually washing, use warm water, dish soap, and something to physically scrub (i.e. brush or cloth), then boil for 2-3 minutes. Sterilizing bags can also be used for this step.
Manual Pump Use
For a single-squeeze pump: Fold the edge of the flange back. Squeeze the bulb and hold. Attach the flange directly center over the nipple, folding the edge back down to contour the breast. Part of the areola will be covered, too. Release the bulb. Make sure to sit up throughout the duration. The flange should stay vacuumed on.
Manual Pump Release
Just like taking a baby off of the breast, do so gently. Press a finger into the breast, indenting at the edge of the flange and breaking the vacuum seal.
Breastmilk Storage
Your milk is ready to be
used or stored
.
Pro Tip: your pump and any parts involved can be refrigerated between uses, and therefore reducing cleaning needs to once a day!