Part of preparing for pumping is to figure out your flange size. First, let's discuss tips and tricks to determine how sizing works and how the flange you start with can change over time. Tools, diagrams, lactation professionals, and blogs cover this topic (one of the most asked-about topics!). Yet, one thing that remains underrepresented is the emphasis on the need to resize as the journey continues. This is not to insinuate that every mom will change flange sizes, but rather to be mindful in case the need arises! Like milk flow, breast milk supply thresholds, and the subtle changes in the composition changes, the breasts will also change, fluctuate, swell, harden, soften, relax and become more malleable. In this article, we will discuss the common times resizing is needed, what to look for to have a good size, and why it's important.
What is a Breast Pump Flange?
A breast pump flange (also called a breast shield) is a cone-shaped plastic cup that fits directly over your nipple to form a seal around the areola. Vacuum suction creates an effective seal that gently draws the nipple into the funnel for milk extraction. The wrong size flange could impact your milk flow and damage breast tissue. It can result in breast pumping pain, blocked milk ducts, swelling, and nipple damage. The right breast shield size allows you to pump comfortably and maximize the milk you produce.
How to Find the Correct Size for You
Many pumps, including Motif Medical, will include a size guide. You can often find it online or in a print-out or a tangible tool to utilize. Be mindful of the instructions given on measuring, though the instructions tend to be consistent, as well as the measurement.

To determine what size you need, you'll need to know your nipple size. You can measure your nipple by taking a ruler or measuring tape to measure the diameter of your nipple (the horizontal width across it). Measure the nipple alone; do not include the areola, the outer edge around your nipple. The measurement should be in millimeters (1 cm = 10mm).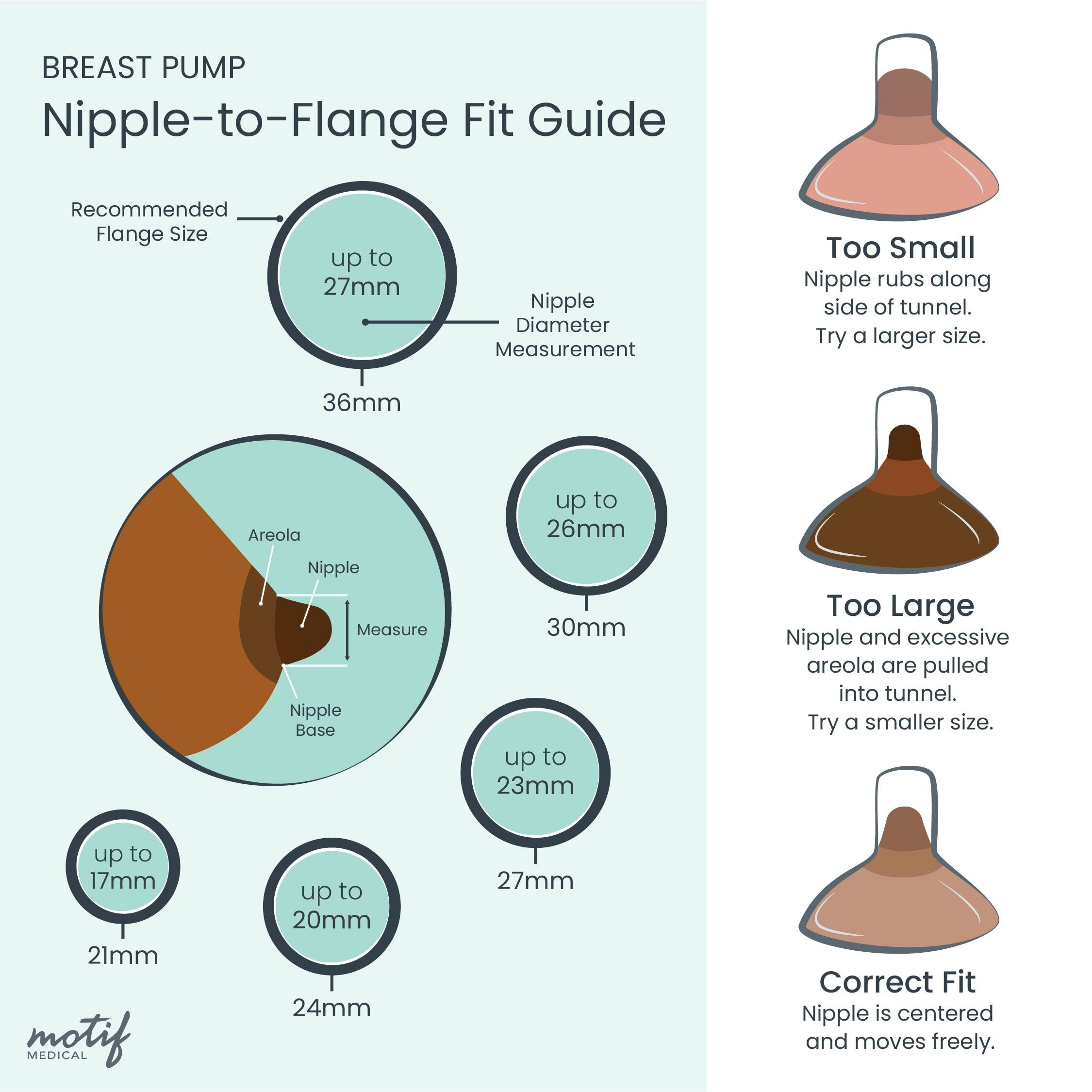 Flanges are sized in millimeters (mm). So, again, it should be slightly larger than the nipple measurement to allow for movement. It's also essential to measure BOTH nipples, as just like in breast (and bra) size, symmetry is not always part of the equation, and it is quite possible to need a different size for each breast- all the more important to measure and resize as needed!
When to Measure and Resize
The First 4-6 Weeks
The initial time to resize is when you first receive your pump, which, nowadays with better insurance coverage, tends to be the last month of pregnancy or soon after delivery. Even if the goal is to breastfeed (at the breast) exclusively, things can come up, and a breast pump is an excellent tool to assist you in your journey. Breast pumps can relieve engorgement and clogged ducts or any unforeseen separation from baby (NICU stay, maternal health conditions, etc.). Knowing your parts work and fit correctly, that preparedness helps so much when the need arises.
Things to look for:
Swelling postpartum; if you are swollen when you first measure, re-measure when that subsides. Swelling occurs in pregnancy but during labor and delivery, especially if given IV fluids and initially engorged when mature milk transitions in about 3-5 days postpartum. Solution: You may need to size down if you suddenly experience too much breast tissue in the flange. Lubricate the flange / breast shield with nipple balm or coconut oil if in between sizes and experiencing uncomfortable friction.
4-5 Months Postpartum
While it's good to be mindful throughout the pumping journey, this is an optimal checkpoint for several reasons; breasts tend to soften as they adjust to the amount of milk needed. Breastmilk is almost always fluctuating in the beginning but finds its rhythm after six weeks if all goes well, only to have cluster feeding and growth spurts to adjust to right around the corner! This checkpoint is great for checking the size of the breast shield/flange and replacing valves, "duck bills," membranes, and diaphragms for optimal suction and milk removal capabilities. These should be replaced every three months if you're pumping full- or part-time (4-12 times a day.) Read more about replacement tips.
Things to look for:
Decreased milk production, less than 4 oz a session, along with any discoloration, pinching, all or a most of your areola being pulled into the flange and tunnel, causing pain. Solution: You may need to size down if you suddenly experience too much breast tissue in the flange. Lubricate the flange / breast shield with nipple balm or coconut oil if in between sizes and experiencing uncomfortable friction.
Increased milk production or larger supply can be a wonderful thing, but may also cause the breast size to increase. Solution: If this leads to swelling or more blood flow to the nipple, you may need to increase in size. Watch for clogs and incorporate massage while pumping.
Anytime You Notice a Change in Pumping Amounts or Comfort Level
Whether you are newly pumping or ten months into it- YOU are your best expert and advocate for your body, and you will be the one to notice any changes to what you know can be pumped out, how comfortable you are, or what you are used to seeing in terms of fit.

We recommend working and establishing contact with an IBCLC in your area to have a proper fitting, as well as to learn how your pump can best work for you, affirm milk supply confidences, and monitor weight in the baby. They are breastfeeding and pumping experts!
You'll Know You Have the Right Breast Pump Shield If...
Your nipple is in the center of the flange and moves freely into the tunnel of the breast pump for comfortable milk expression.

Your breasts are fully drained and you can't feel any areas that still contain milk, as this could indicate uneven breast milk extraction.

You don't experience nipple pain.

Your nipple and areola do not turn white or become discolored, which could indicate the blood supply has been cut off.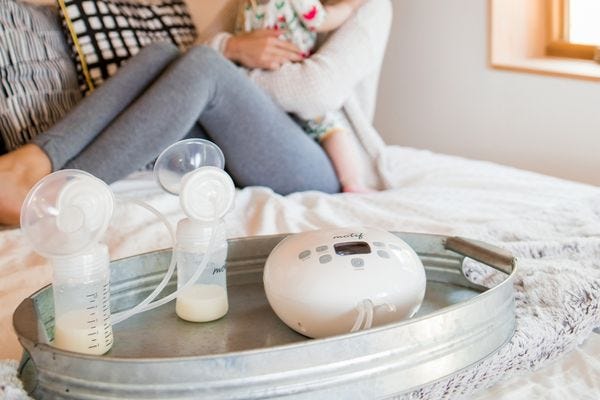 The funnel of the flange mimics the lips of a baby, who will pull not only the nipple into their mouth but also just a tiny amount of the areola. If none of the areolae makes it into the mouth or the flange, there is inadequate breast stimulation, which may interfere with long-term milk supply and production. It may also affect comfort, as this could lead to tightness around the nipple, which negatively impacts milk production.

A comfortable fit means less physical stress on the breasts, which helps the body relax and respond well to oxytocin, the hormone responsible for releasing milk.
---
Information provided in blogs should not be used as a substitute for medical care or consultation.