One of the best feelings in the world is to teach a mother how they can reclaim their life and feel human again while still maintaining goals they have set for themselves regarding breastfeeding and providing breast milk to their baby. But unfortunately, society is under so much pressure to learn the art of breastfeeding and pumping, with the growing understanding of its health benefits. Yet, there's still much left to yearn for support in helping them make that happen. As a result, pumping can feel like a hassle.
One of the many ways to meet our goals is to free up our hands. Something as simple as providing nourishment for ourselves as we feed our baby should not be undervalued! There are ways to breastfeed hands-free, with the help of a sling or a carrier. If we need to pump and maintain our milk supply, this can be done hands-free, too!

Any pump can accomplish pumping hands-free. There are many options, from silicone hand pumps, wearable, and wireless breast pumps, to electric breast pumps, including battery-powered ones. We are excited to share our top tips on effectively doing this.
Before you pump
Make sure you are prepared with what you need. Practice putting your pump together, and make sure your parts are clean and sanitized.
Flange sizes will possibly change as your breast size and milk supply change. Swelling is common when newly postpartum but will lessen as time goes on. Resize if you notice discomfort, less breast milk output, or visible compression or rubbing of the breast tissues.

Decide what pump is best for you. A double electric breast pump has strong suction for higher breastmilk volume needs. A hands-free breast pump (wearable pump) is an excellent option with fewer parts to juggle. Check out the different pumping modes in your model: massage mode, expression mode, strength settings, etc. A wearable electric breast pump may not have as many settings and may be automated in the cycle modes. For optimal output and milk collection, massage the breasts before and during the pumping session - another great reason to go-hands free!

Is your pumping system:
Leakproof.

a closed system (will it be protected from moisture and mold).

Protected by a good warranty, including battery life.

BPA free (applicable to the accessories).
Nursing Bras
Of course, we immediately think of nursing bras. Nursing bras have come a long way since they were first invented or thought about, the structure improvement, accessibility, size inclusivity, etc. Nursing bras are now being designed with a hands-free pump in mind.
Milk storage bags are ideal for storing your breast milk. Some are now made to be reusable for a green option. Store in smaller batches, 2-3 oz, and keep frozen until ready to use unless you plan to use it soon, which in this case, keep it in the fridge for up to 4 days.
If you decide to use a hands-free nursing bra, it's ideal to try out different designs to determine what fits you best.
Important note: flanges should be checked for proper seals when utilizing a nursing bra so that slack in the weight of the bottle of breastmilk does not pull the flanges and break the suction seal.
Comfort and Size
Breasts can change several cup sizes, with fluctuation, throughout your entire pregnancy and breastfeeding journey. Select a breathable, stretchy bra that maintains supportive structures.
Durability
Durability is important if you plan to pump often.
Accessibility
Accessibility tends to be a struggle for many who try to pump hands-free. Nursing tops, button-downs, and the layering shirt method are very helpful, but the nursing bra must also be accessible. Make sure your flange sits comfortably when pumping.
Style
Underwire gets a lot of mixed reviews. If you use a hands-free pumping bra that contains underwire, make sure to have it properly sized and ensure that breast tissue, even up to the armpit area, is not compromised or compressed.
Read reviews and FAQ before checkout: consider your nursing bra an investment, complimenting your pumping experience.
Deciding on a Breastfeeding Pump Option
Portable Breast Pump
A portable breast pump can run off battery power and is lightweight. Electric breast pumps like the Motif Luna, Duo, and Twist are all considered portable, lightweight, rechargeable, and discreet, as they're quiet, too.
• Once attached, they can easily be carried around in a bag or purse if on-the-go, or set down on a surface, making it hands-free.
• Their cordless feature makes it hands-free and location-friendly, without the need to find an outlet.
Double Wearable Breast Pump
Further eliminating the need for tubes, plug-ins, and outlets, attaching the pump of this design directly to you, with only the breast shields in between, makes for the ultimate freestyle pumping experience. It's all-in-one.
• Be mindful of strength settings. The suction level is important to remain in place and extract the optimal amount of milk, but too much can be painful and counterproductive. Strong suction is not the only aspect of maintaining a healthy supply and optimal breast milk output. Gently experiment with Settings for your best experience!
• Collection cups remain within the pump while pumping and are easy to remove without messes.
Prepare to Pump
Distractions or a peaceful environment work best for pumping.

A major pro to freestyle pumping is the ability to continue about your day. This takes the mind and pressure off of pumping, which helps the body relax, and, therefore, can sometimes be a crucial factor in obtaining the best milk output!

Assemble and align. Your flanges should be centered around the nipple, with little-to-no areola contact, compression, or rubbing.

Massage before and during. Reiterating how helpful this tip is, relaxing the tissue, increasing blood flow, and physically coaxing the milk out and forward optimizes the milk collection.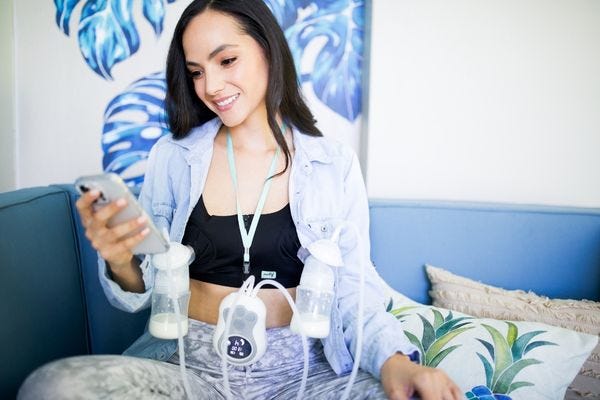 ---
Information provided in blogs should not be used as a substitute for medical care or consultation.