Motif's goal is to make sure we listen to moms' needs and to continue improving our products to match the needs of today's busy, on-the-go mom. So, moms asked, and we listened by presenting a portable version of our most powerful pump, the Luna! So what makes the battery-powered Luna so special? In this blog, our in-house lactation director and International Board Certified Lactation Consultant, Ashley, will explain why it's such a game changer to breastfeeding and pumping moms!
There are a few things that immediately come to mind with having the option to go battery-operated:
FREEDOM, no longer stuck being plugged into an outlet somewhere
Versatility
Travel-friendly
A great pump also needs to also be efficient, clean, comfortable to use, and make the task of pumping easier and more enjoyable. The new Luna provides all of that, as well as a lightweight design, adjustable glow light, and memory settings. This is great news for moms and their families, as well as medical providers who realize the importance of closed systems/engines and pump efficacy!
Breastfeeding and pumping can sometimes feel like a huge time commitment, and one that the burden is carried solely by mom. The more options and variety that can be given to a breastfeeding and lactating mother, the more she feels supported to reach her individual goals, and with much less stress. It also allows her to pump practically wherever she desires or needs to. The pump's engine is quiet, but to have the strength not be compromised is an important aspect of the Luna.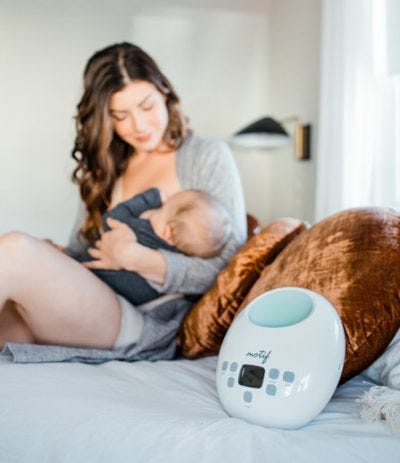 Pumping in the middle of the night is a great example. If an older baby has started sleeping longer stretches, but mom still needs to pump to relieve pressure and protect supply, there's no more switching on lights to find an outlet. The soft, adjustable glow of the Luna and quiet battery makes sitting up to pump much easier, which means getting back to sleep happens faster.
Moms needing to pump, but also with other children to look after, will also find this useful; being able to change rooms or sit outside without needing to find an outlet will make this task much more doable. The possibilities and situations this option benefits are ongoing. This is an important option even providers, like myself, need to be aware of in order to properly guide and support a mother's concern with the balancing act. Mothers do not want to spend more time than they have to to pump.
The average pumping session can easily take 15-20 minutes, but the Luna has been reported to get the job done in <strong>as little as 8-10</strong>! Six or more sessions saved over an hour of time. That's HUGE. Battery life is 2 or more hours, which can cover several sessions. Charging the new Luna is a breeze, as well: <strong>2.5 hours!
Its sleek design is true to the modern style Motif is known for, all while not taking away effectiveness and quality. Traveling? No problem! This lightweight pump totes around nicely, and can be used in the car, bus, plane, and all by battery.