How to Spring Cleaning Safely During Pregnancy
If you're expecting a little one, you may have noticed that your desire to clean your home has increased—that's normal! Most people call it 'nesting' when it happens in the third trimester. However, some people feel extra vigilant about cleanliness throughout pregnancy. And the fact is that pregnancy is the perfect time to take a closer look at the cleaning supplies you use at your house. A maternal instinct can kick in once you're pregnant, and that instinct is to do whatever you must to protect your baby. Unfortunately, in many ways, today's environment isn't the safest place.
The American College of Obstetrics and Gynecology said in their Committee Opinion Number 575, published in October 2013, that "virtually every pregnant woman in the United States is exposed to at least 43 different chemicals. Chemicals in pregnant women can cross the placenta, and in some cases can accumulate in the fetus, resulting in higher fetal exposure than maternal exposure." Higher hormone-disrupting chemicals can lead to poor health outcomes like low birth weight and preterm birth. Unfortunately, toxic chemicals can be found all around us, and there's not much outside of policy change that can be done to control the toxic chemicals in our environment. Still, we can do our part and eliminate toxic chemicals in our homes.
What's Safe to Use?
Did you know that many commonly used cleaners, even those marketed as "natural" or "green," contain harmful chemicals that can contribute to health problems? Some widely used cleaning supplies contain volatile organic compounds (VOCs) released into the air. VOCs contribute to headaches, respiratory issues, and allergic reactions. These dangerous substances can be found in detergents, and aerosol products, including air fresheners, furniture polish, and oven cleaners.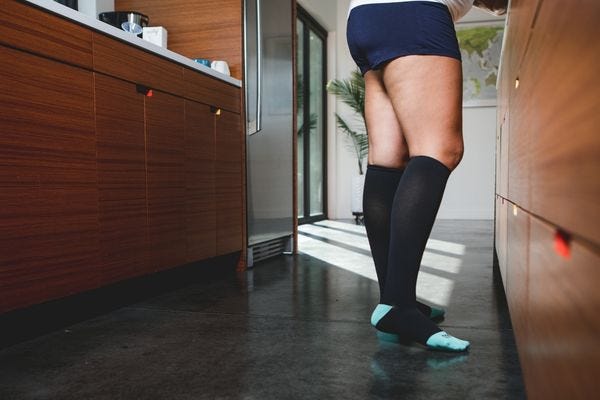 Take a few minutes before your next cleaning session and read the labels of the products you use in your home. Avoid products that contain phenol, formaldehyde, terpenes, glycol ethers, acetaldehyde, and methylene chloride. Always look for products that are fragrance-free or unscented.
If you find you need to switch products, congratulations! You are creating a healthier environment for your little one to grow up in! Many environmentally friendly products are available for purchase.
Brands to look for:
Mrs. Meyers

Seventh Generation

BioKleen
In-store availability will depend on location, but you can also find them online. Or, if you want to make your own, many cleaning products are simple to make yourself! I always recommend cleaning with microfiber cloths. You can use microfiber cloths with DIY cleaning products or any toxin-free products you buy in-store or online. They are going to give you the cleanest look without streaks and without leaving lint behind.
A Recipe for Toxin-Free Cleaning Products
If you want to try making your own natural, toxin-free cleaning products, here are a couple of recipes to get you started!
All-Purpose Spray
Glass spray bottle

2 c Distilled water

2 tablespoons Castile Soap

Essential oils (optional)
Mix in a glass jar and store in a cool, dry place.
Glass + Mirror Cleaner
Glass spray bottle

1/3 c rubbing alcohol

½ c white vinegar

1 c distilled water
Mix in a glass spray bottle and store in a cool, dry place.

Well done on starting to create a toxin-free home! Everyone will thank you for your work to reduce their exposure to hormone-disrupting products, and the environment will thank you for doing your part to make our world a healthier place!
---
Information provided in blogs should not be used as a substitute for medical care or consultation.