One thing we can certainly all attest to is that when the mother feels cared for and that her needs are met, her cup is filled to be able to tackle motherhood and all that comes with it. Sometimes, we have to take matters into our own hands and put into place some self-care practices and tools. So let's cover ways we can recharge our batteries and take on the day with a fresh start. That sounds like a great Mother's Day gift.
Choose Products That Work for YOU
What are your goals, and do you know what products are out there to help you reach them? We all know the phrase, "Work smarter, not harder." We can apply this to our breastfeeding and pumping lifestyle - and not only streamline our routines and obligations, but maybe enjoy it too!
Hands-Free for Freedom
Whether you need to incorporate massage while nursing or pumping, or need to prepare a snack for other littles (and you!), its nice to multitask in a way that allows you to feel accomplished, productive, and not stuck. Mental load is real, and I distinctly remember looking around the house at things that needed to be done, but had to wait because I was nursing or pumping. While it's easy to say, "Those things can wait," sometimes our brain is wired to keep thinking about it and not relax. You want to have the option to multitask or be still and be present for a feeding. So maybe one pumping session you relax and have a snack, incorporate your massaging, rehydrate, and the next you can pump while you catch up on folding your laundry. Freedom to not have the decision made for you, or stress about the mental load, is a priceless gift you can give yourself.
Hands-Free Tools
● Motif Aura, the hands-free pump
● Duo, utilizing a lanyard to tote around your pump.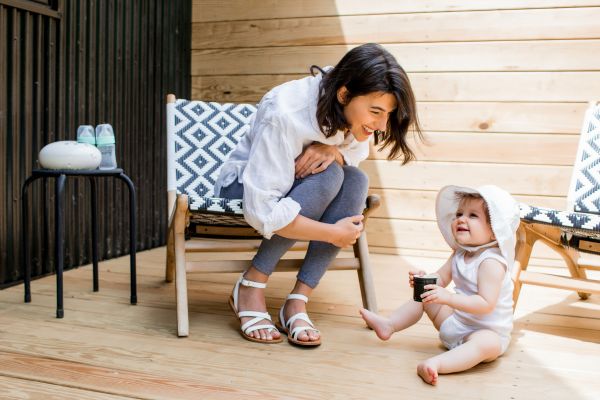 Pumping Essentials
Having products that make your life easier and that you want to use, all while enriching your betterment is the way to go. From taking care of your skin and breast tissue, to streamlining your milk storage, taking care of yourself will help keep to your goals because they'll feel THAT more attainable.
● Pourable Milk Storage Bags- Complete with easy-to-see measurements, and perfect storing design, you can also easily utilize them with their pour tab. Less mess and makes so much sense!
● Pump-to-Bag Adaptors- this sounds like less dish-washing! Pumping directly into the container designed for storing sounds like a great idea. This is ideal for mothers with limited washing capacity in the workplace, too.
● Nipple Balms- focus on natural ingredients, with emphasis on protecting the tissue and preventing thrush
● Supplements- feel better, more energized, and maximize your body's ability for milk production. Ingredients, like lecithin, are also great for those who are prone to clogged milk ducts.
● Reusable Nipple Pads- You will most likely leak while lactating, and these cotton nipple pads are natural, reusable and gentle on your skin, even for those with sensitive skin. They're soft, and won't stick to the nipples.
● The right pump for you! Last but not least, choosing the right pump for your lifestyle and goals can make a world of a difference. From desktop pumps, like the Luna, designed for high-volume needs, to ultra-lightweight pumps like the Aura and Duo, for the savvy traveler, don't feel like you need to settle!
Practicing Mindfulness
Final thoughts on gifting self care:
● Know when you need to step away and take a breath.
● Have a basket of goodies near your feeding or pumping space. Snacks, ear pods, water bottle, books, essential oils, a massager- what are some other things you can think of? Learn to use your voice. Say what you need in the moment, and how it can best be achieved.
● Give yourself grace. Every pregnancy, birth, and feeding choice is experienced differently, which means we are always learning to navigate each chapter.
---
Information provided in blogs should not be used as a substitute for medical care or consultation.