Meet the Motif Aura
A wearable, wireless breast pump built for the modern Mom on-the-go. Designed to fit in your bra, the Motif Aura is hands-free, powerful and discreet. Pair it with the Motif Aura app to pump smarter by controlling your setting and logging your sessions.
Pair the Motif Aura with the Motif Luna for the perfect combination of power and convenience. We recommend using a wearable pump as a secondary, on-the-go option.
About the Motif Aura From an IBCLC
The Motif Aura is designed to be paired with a powerful electric pump like the Motif Luna for the ultimate combination of power and convenience. Ashley Georgakopoulos, our Lactation Director and IBCLC, shared tips for incorporating the Motif Aura into a new mom's pumping routine:
Apply light pressure when adjusting settings to maintain suction.

Utilize the Motif Aura to complement part time pumping.

When assembling, double check flange size throughout your pumping journey and securely attach.

Make sure to moisturize or lubricate the nipples with a soothing nipple balm or coconut oil.

Utilize your nursing bra to provide additional support for holding your pump in place.
"When designing the Motif Aura, the team prioritized the features that moms told us mattered most," said Georgakopoulos. "We wanted to make sure that we are maintaining quality and efficiency while also making comfort a top priority. The Motif Aura is lightweight, easy to use and has maximum strength capabilities with personalization in strength settings, to allow for both wearability and effective milk removal. It allows modern moms to move about in their day-to-day lives."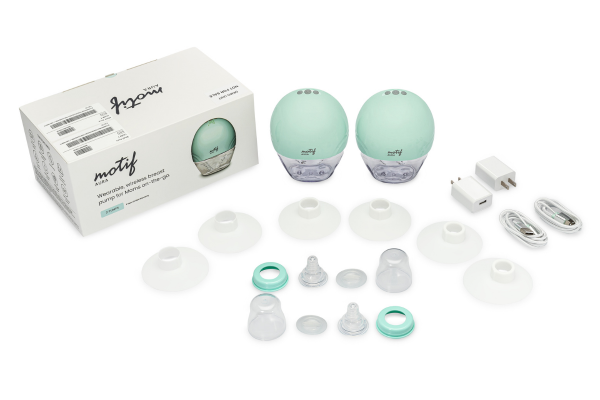 What's Included
All of this comes in the box with your Motif Aura.
2 Hands-Free Pumps

2 Diaphragms

2 Connectors

2 Breast Shields (29mm)

3 Pairs of Silicone Inserts (21mm, 24mm, 28mm)

2 Valves

2 Bottles

2 Bottle caps, nipples and rings

2 Power adapter, DC5V, 2A

2 USB-C cables
Includes a 2-year manufacturer's warranty for the main pump, 12-month for the battery and a 90-day warranty for the components. Register your pump at https://motifmedical.com/warranty-registration.
Real Mom. Real Life. Pump How You Want
Meet the ultimate in-bra, hands-free, wearable breast pump. The new Motif Aura makes it possible to pump whilst multitasking throughout your busy day, giving moms more time and independence.
The pump can be used as an ideal companion alongside your Luna pump for on-the-go sessions giving you flexibility and freedom to pump anywhere.
Pair it with the Motif Medical app to pump smarter by controlling your setting and logging your sessions.
---
Information provided in blogs should not be used as a substitute for medical care or consultation.