National Breastfeeding Month
August is no ordinary month– it holds a special place in Motif's heart and within our mom community. A time dedicated to raising awareness about the importance of breastfeeding and supporting breastfeeding mothers. Motif celebrated National Breastfeeding Month by sharing your unique breastfeeding journeys. We loved seeing your tags, comments, and DMs on social media. We feel so lucky that you chose Motif to be a part of your unique breastfeeding journey. Whether you did it for just an hour or rocked it for years, you deserve recognition!
World Breastfeeding Week
The first week of August is World Breastfeeding Week. The theme focuses on breastfeeding support in employment. Without resources, education, and adequate breast pump supplies, women may stop breastfeeding earlier than recommended when returning to work. This annual campaign by the World Alliance for Breastfeeding Action brings together a diverse community worldwide to spread awareness of the importance of accessibility for breastfeeding at work.
For moms returning to work, remember under the Fair Labor Standards Act (FLSA) employers with 50 or more employees must provide reasonable break time for mothers to express breast milk for up to a year after their child's birth. They must also provide a private space other than a bathroom for breast pumping. Where do you start when deciding to develop a pumping schedule for work? Learn how a pumping schedule for returning to work can help you succeed with your goals and milk supply.
Finding a pump that can fit your breastfeeding needs while at work is essential. Our Perfect Pair Bundle has your on-the-go lifestyle in mind. This bundle comes with our Motif Aura and Luna with a free backpack! Pairing a wearable breast pump with your Luna can offer convenience and discreteness. With the Motif Aura pump, mothers can move around freely and perform daily activities while pumping, providing greater flexibility and privacy.
Black Breastfeeding Week
August 25th-31st Black Breastfeeding Week was established because of the gaping racial disparity in breastfeeding rates. This year's theme #WeOutisde, celebrates the redefining of breastfeeding and parenting experiences. We are proud to be a part of the continuous efforts to increase breastfeeding within the Black community— a positive step that holds the promise of potentially diminishing infant mortality rates by as much as 50%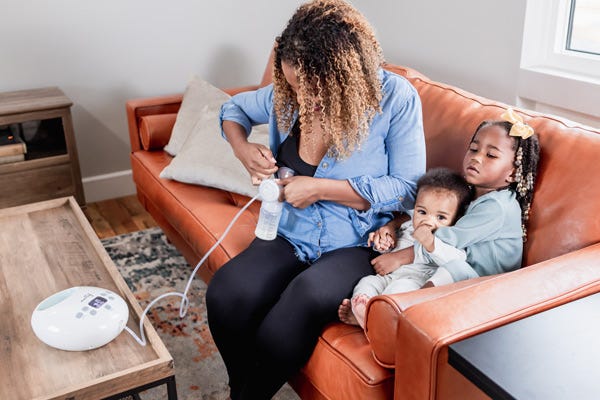 Celebrating Breastfeeding
Motif Mom Testimonials
"I have been on this beautiful journey for 7 months. It still amazes me that I am able to feed my baby through my body. We have definitely had our ups and downs (late night pumping, cluster feeding, weak latch, low supply), but we are doing it and I am so proud of myself. It definitely helps to have a pump you can rely on and for me that's Motif Aura & Luna," says Angelina. You can learn more about her unique breastfeeding journey on Tiktok.
As an exclusive pumper, Susel shares her vulnerable breastfeeding story. "I had this preconceived notion that breastfeeding was going to be a breeze. That it would just come naturally for me… It did not for me. After trial and error, what worked for my baby and I was exclusively pumping." You can watch her vulnerable testimonial above and more on our Youtube channel. Susel shares her journey on Instagram.
Celebrity Edition
Our products have caught the attention of some moms in the spotlight, but our mission remains the same: to stand by and uplift every mother on her one-of-a-kind breastfeeding adventure. #motifmoms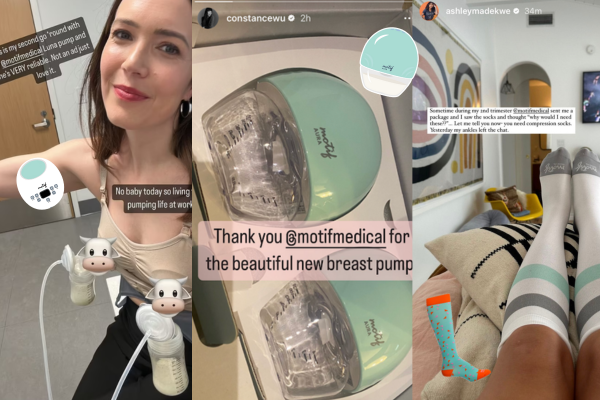 Support System
Taking care of a home starts with taking care of yourself, moms! We understand the importance of your overall well-being during the postpartum period. This month Motif's marketing team was excited to announce a virtual collaboration with Yoga Pointe in Florida. This postpartum yoga routine helps relax and nurture your body while navigating breastfeeding. These three poses can help your posture, relieve tension, and support your pelvic floor: Cat & Cow Pose, Child's Pose, and Supported Bridge Pose. Save this Instagram Reel, so you can follow along and help your body relax after a day of breastfeeding.
Daily breastfeeding affirmations can help shift the tone and outlook of each day of your breastfeeding journey. We reposted Digital Creator Alexis Kristiana shares her breastfeeding journey as a mother of 3. Her 5 affirmations she says daily are:
My time and energy spent nursing [pumping] is appreciated.

I choose to cherish these moments with my baby.

I am grateful for this bond between us.

I am grateful to provide comfort, love, and nutrition to my baby.

My body is capable of amazing things.
"On your breastfeeding journey, mindset plays a huge role in it, so one thing that I love to do is set some daily breastfeeding affirmations with myself. Definitely changes the mood and narrative of the day." - Alexis
IBCLC Top Breastfeeding Picks
Let's dive into Ashley Georgakopoulos, Motif's Lactation Director's, IBCLC-Approved Top Picks! Having the right tools for a successful breastfeeding journey is so important. You can elevate your breastfeeding journey with these handpicked essentials. Ashley's favorites are here to support you every step of the way.
Manual Silicone Pump: Many uses and benefits of having one of these: an on-the-go pump, clogged duct relief, nipple primer for latching, and a milk collector during feeding.
Hydrogel Nipple Pad: Instant cooling relief from sore nipples with Hydrogel Nipple Pads - Reusable up to 7 times!
Pumping Bra: Specifically for pumping mothers, this is a game-changer to be able to pump as long as needed but have the hands free to go on about your day or massage to increase milk flow.
Milk Storage Bags: Even without pumping, there are times to collect milk. Milk storage bags are designed for easy refrigeration, dating, measuring volume, and pouring later. Just good to have on hand!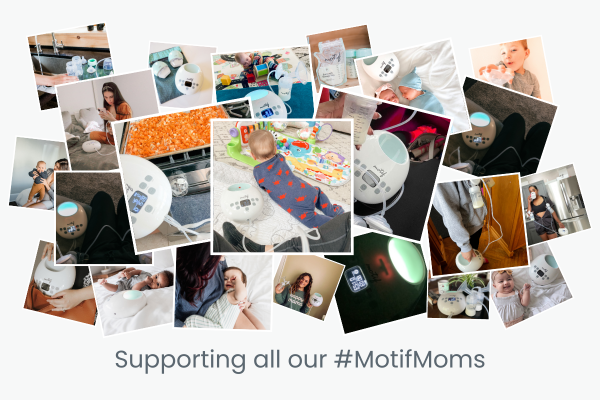 Information provided in blogs should not be used as a substitute for medical care or consultation.