Keep in mind: Safety comes first. We will discuss ways to achieve the proper setup without compromising your safety while riding in your vehicle. Practice your set up, get comfortable with it, and only drive and pump if you can do so safely and legally. The right materials and pump will assist with this. We highly recommend breast pumping while pulled over or as a passenger in the vehicle. However, if you plan to pump while driving. Be sure to keep these tips in mind! Consider your range of motion to avoid distracting yourself with the pump in any way while driving. Make sure you have the ability to wear your seatbelt, and to come to a complete stop before removing your pumping setup.
Pumping your breast milk in the car could be an answer to fitting in more pumping sessions in a day. This is a sustainable step to reaching your pumping goals, along with providing yet another option for finding relief when needed and protecting your milk supply.
Running errands? Working mom on commute? Traveling on a road trip or vacation? No problem. Some may also find that their focus being on driving takes the attention off of pumping being a chore or the anxiety of getting milk-flow going. Relaxing and listening to music, while driving along, will help your body respond very well to your pump. All you need to be a pumping mom on-the-go are the following to safely and effectively pump in your car:
Pumping Materials
Portable pump, battery-operated or with a car adapter
Breast Pump Car adapter (if needed)
Pump Parts (avoid forgetting them!) : breast shields/flanges duck bills, tubing, etc
Breast milk storage: Milk collection bottle, lids
Optional
Pump bag
Nursing Cover
Car Charger
Battery Pack
Massager
Ice packs
Cooler
Storage Bags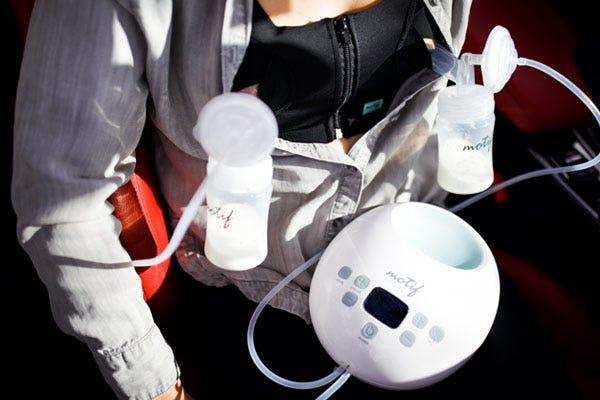 Setup Assembly
Before driving or riding along, make sure to be wearing a hands-free pumping bra, which is made to securely hold the breast shields in place and withstand the weight of milk once expressed. Attach the breast shields first before the rest of your pumping kit.
With a charged, battery-operated pump, you are ready to connect the rest of your kit. Don't forget to pack your duckbills, membranes, backflow protectors and milk collection bottles. Connect the tubing to the kit and pump, and you're all set to begin pumping.
Both the Motif Medical Duo and the Luna have memory features to make switching modes easier and automatic. This is a convenient and safer feature to pump undistracted. Place the pump in the passenger seat or wear on a lanyard, as seen with the Motif Duo.
Additional Tips
You can absolutely pump while parked, along with as concealed as you need to be in order to feel comfortable! Nursing covers and blankets or burp cloths work great for this.
Leave your cup holders available for setting bottles down securely.
Bring a charging cord just in case, or even a battery pack! Adaptors may be needed, depending on the make and model year of your vehicle, and what type of power outlet is available.
Pack your lunch or snack for the car, along with something to drink! Great for lunch time pumping breaks.
For longer trips or commutes, coolers and ice packs will keep your breast milk stable until used or have access to refrigeration. A wet bag or gallon size ziploc bag is great for storing used parts for when in between pumping.
Be sure NOT to refrigerate or store tubing in coolers, wet bags, etc., to avoid moisture buildup. Keep these separated from the rest of your pumping materials.
Pumping can be done discreetly! Think about the accessibility to your pumping bra from your top you wear. Button-downs, nursing tops, and two-layer shirt methods (lower the neck of the under shirt, lift the top layer), are all great ways to get to pumping without feeling exposed. Other options are scarves, burp cloths, light blankets, and nursing covers. Many of these options are ones you will already have on hand! When parked, during a lunch break, for example, windshield screens are a nice option, too! The dimly lit, temperature controlled atmosphere is always a plus to getting a good response to your pump.
Pumping Safety
Whether you are driving or riding in the passenger seat, it's easier and safer to assemble your pumping setup first. If driving, do not attempt to set up. Accessible tops and a hands-free pumping bra will make for a more secure, steady, and safe situation. Once assembled, seat belts are still required, so buckle up and take a deep breath. Now you're ready to start driving and pumping! Avoid distractions by having memory functions set up on your breast pump to automatically switch modes and preset levels, along with self-shut down power features.
Do not adjust or remove assembly while driving. Wait until the vehicle is in park to remove, adjust, pour milk for storage, charge or anything that could compromise safety and cause distraction.