Skincare products and routines are hot topics, as many are taking advantage of information being provided right at their fingertips. Dermatologists break it all down for when and how to use ingredients for various issues or preventative skin care. However, when it comes to pregnancy and breastfeeding, extra precautions are needed.
Pregnant women have to be extra cautious. Pregnancy is a time when the baby is directly connected to the mother's blood stream. Meaning that certain ingredients that do get into the blood may increase the risk of birth defects, and must avoid beauty products and lotions that contain Tretinoin, Retinoids and its derivatives such as retinols and retinyls, along with others. The bright side is that many products can be used after pregnancy.
Over-the-counter Retinoids and retinols that may have been avoided during pregnancy can be used topically again when breastfeeding. Tretinoin, however, has not been tested, and therefore is not something that can be recommended.
Breastfeeding and pumping mothers have a few more options they can decide on, as the skin barrier and mature milk both do a great job filtering out ingredients that don't belong in the milk. Direct skin contact between the mom and baby are the main concerns with skincare, as many products, from lotions to beauty products contain irritants.
Safe Skincare
1. Hydrate with water. This may seem underwhelming, but hydrating the skin starts here. Aim for 8-10 cups a day.
2. Protect the skin's barrier. Topical, over-the-counter products, such as hyaluronic acid, which our skin already produces, and sunscreen with an spf of 30 or higher is preferred. This protects the skin's barrier, reducing the onset of fine lines, dark spots, and imbalanced oil production, which can help reduce breakouts. Look for a zinc oxide sunscreen if allergic to chemical sunscreens.
3. Avoid the baby's skin coming in contact. You can use Vitamin C and Vitamin A products, collagen boosting ingredients, and exfoliating acids in your skincare routine but avoid the neck and chest area where your baby may snuggle or feed. Read product labels on skincare ingredients for names such as lactic acid, glycolic acid , BHA (beta hydroxy acid), and AHA (alpha hydroxy acids). Avoid ingredients like parabens, formaldehyde and essential oils, which are irritants.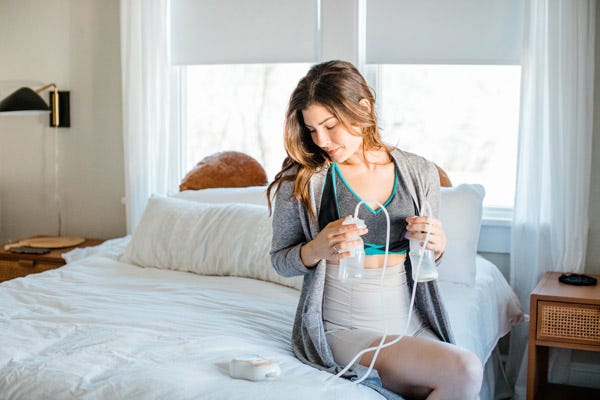 4. Eat your fruits and vegetables! Get your vitamins and antioxidants naturally that help support a healthy glow, while reaping the other numerous benefits for breastfeeding mothers.
5. Use gentle soaps, cleansers, and moisturizers. Skin-to-skin contact is important to have with your baby, so make sure your skin is not an irritant to them.
It's not uncommon to have to treat skin issues, regardless of status of being a new mom, so make sure to contact a dermatologist directly before deciding on products to use, and inform them if pregnant, breastfeeding, and/or pumping. They will have the scope, knowledge and database to speak to safety, use and efficacy of skincare products based on evidence-based research.
---
Sources
Bozzo P, Chua-Gocheco A, Einarson A. Safety of skin care products during pregnancy. Can Fam Physician. 2011;57(6):665-667. https://www.ncbi.nlm.nih.gov/pmc/articles/PMC3114665/
Drugs and Lactation Database (LactMed) [Internet]. Bethesda (MD): National Library of Medicine (US); 2006-. Tretinoin. [Updated 2018 Dec 3]. Available from: https://www.ncbi.nlm.nih.gov/books/NBK501419/