Skin Care Needs and Concerns
We want to have options for good skin care and regimens, as so much change is happening to our bodies that can be softened or help with proper nutrients and moisture. While stretch marks are genetic in their probability, keeping the skin soft and healthy will help with its elasticity, and therefore reduce risk or appearance of them.
Stretch marks can happen anywhere, and we are particularly looking at the stomach and thighs during pregnancy, but also breast tissue as they swell with milk postpartum. There is a noticeable shift in the acceptance of the occurrence of stretch marks, and many admirably embrace them and the story they provide. Some, however, are painful, as it is a form of scar tissue. So even if they are already present and embraced, we love to have options and education at our fingertips to care for our well-earned stripes.
We also see and experience skin dryness and hyperpigmentation. Fluctuating hormones, stress, and nutritional demands play a role in this. Protecting the skin barrier to hold moisture is important, and for some, addressing vanity concerns for mental health and self esteem is so valid.
Pregnant women have to be extra cautious. Pregnancy is a time when the baby is directly connected to the mother's blood stream. Meaning that certain ingredients that do get into the blood may increase the risk of birth defects. It is advised that you must avoid beauty products and lotions that contain Tretinoin, Retinoids and its derivatives such as retinol and retinyl, along with others. The bright side is that many of these products can be used after pregnancy- even while breastfeeding.
Ingredients to Avoid (or be mindful of)
Retinoids

Hydroquinone - used for skin-lightening

Phythalates - solubulizers

Formaldehyde* - a preservative; * No longer allowed in cosmetics, however, derivatives are:


DMDM hydantoin

hydroxymethylglycinate

imidazolidinyl urea

quaternium-15

5-bromo-5-nitro-1,3-dioxane

bronopol, also called 2-bromo-2-nitropropane-1,3-diol

diazolidinyl urea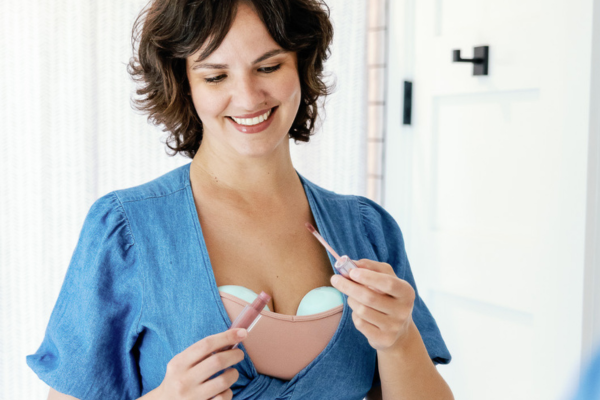 Over-the-counter Retinoids and retinols that may have been avoided during pregnancy can be used topically again when breastfeeding. Tretinoin, however, has not been tested, and therefore is not something that can be recommended

Safe Products, Ingredients and Alternatives
Skincare Ingredient Tips
Breastfeeding and pumping mothers have a few more options they can decide on, as the skin barrier and mature milk both do a great job filtering out ingredients that don't belong in the milk. Direct skin contact between the mom and baby are the main concerns with skincare, as many products, from lotions to beauty products contain irritants.
Natural is not always better, but in most cases it is. Things to be mindful of, regardless if breastfeeding or pregnant, are whether or not the natural source can be an irritant or potential allergen, for you or for your baby if skin-to-skin contact is made. Another point is efficacy, as products are specifically formulated to be able to be absorbed through the skin barrier in a usable form. Some molecules, whether natural or formulated, are too big and can never penetrate, rather sitting on the surface of the skin to be immediately removed at the first wash.
Ingreditents for DIY Remedies
Moisturizers
Aloe

Avocado & Coconut Oil*

Almond* / Seed* Oil

Cocoa Butter &

Shea Butter

Vitamin E & Vitamin C
Acne Treatment
Azelaic acid

Glycolic acid

Topical benzoyl peroxide
Topical salicylic acid
Home remedies should be made with caution, and with discernment on efficacy, cost, etc. *Be mindful of allergens, where applicable.
Safe Skincare Routine
Hydrate with water. This may seem underwhelming, but hydrating the skin starts here. Aim for 8-10 cups a day.

Protect the skin's barrier. Topical, over-the-counter products, such as hyaluronic acid, which our skin already produces, and sunscreen with an spf of 30 or higher is preferred. This protects the skin's barrier, reducing the onset of fine lines, dark spots, and imbalanced oil production, which can help reduce breakouts. Look for a zinc oxide sunscreen if you are allergic to chemical sunscreens.

Avoid the baby's skin coming in contact. You can use Vitamin C and Vitamin A products, collagen boosting ingredients, and exfoliating acids in your skincare routine but avoid the neck and chest area where your baby may snuggle or feed. Read product labels on skincare ingredients for names such as lactic acid, glycolic acid , BHA (beta hydroxy acid), and AHA (alpha hydroxy acids). Avoid ingredients like parabens, formaldehyde and essential oils, which are irritants.

Eat your fruits and vegetables! Get your vitamins and antioxidants naturally that help support a healthy glow, while reaping the other numerous benefits for breastfeeding mothers.

Use gentle soaps, cleansers, and moisturizers. Skin-to-skin contact is important to have with your baby, so make sure your skin is not an irritant to them.
It's not uncommon to have to treat skin issues, regardless of status of being a new mom, so make sure to contact a dermatologist directly before deciding on products to use, and inform them if pregnant, breastfeeding, and/or pumping. They will have the scope, knowledge and database to speak to safety, use and efficacy of skincare products based on evidence-based research.

Sources
---
Information provided in blogs should not be used as a substitute for medical care or consultation.