Is an Abdominal Binder After C Section Right For You?
If you're planning to deliver your baby by Cesarean section, or if you've already given birth by C-section, you should receive an abdominal binder before you leave the hospital or you may choose to purchase your own. These
postpartum support bands
can help new moms during their recovery by reducing postoperative pain, reducing postpartum bleeding, and increasing mobility. So let's talk about how and when to use them for the best results.
What is an Abdominal Binder and When Can I Wear One?
Abdominal support bands are used as part of the
recovery process after major abdominal surgery
to provide external support to the abdominal muscles and the surgical incision. It is recommended that you start wearing it during daytime hours immediately after the birth and for the first few weeks postpartum.
It is not necessary or recommended to wear a postpartum belly wrap at night or anytime while you are sleeping. If your postpartum corset has boning it will be difficult to find a comfortable position and you also want to give your muscles a chance to work by themselves. Nighttime is usually a time of lower activity, which makes it the perfect time to go without a recovery belt.
How Tight Should a Belly Binder Feel?
Any belly wrap or belly binder you use should feel like a gentle hug around your abdomen and should not be as tight as shapewear.
You should feel gentle compression and extra support
for your back and abdomen. This will assist your core muscles to function properly and help improve your posture while reducing the aches and pains that many new moms experience while breastfeeding and moving around.
What Are the Benefits of an Abdominal Binder?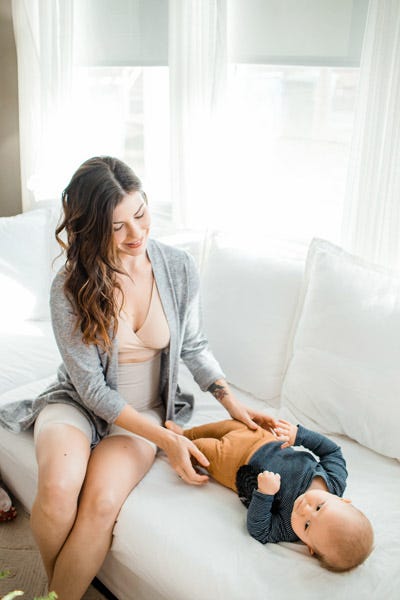 Postpartum recovery after a c-section may include resolving diastasis recti, lower back pain, and pelvic floor dysfunction. Some garments are made to only provide abdominal and back support, others are created to support your entire core set of muscles.
If your postpartum girdle includes shorts and is not just a wrap around belly band, then you will also be getting the
benefit of supporting your pelvic floor
. All postpartum support bands provide abdominal support to help bring your muscles back together and work to not increase strain to your core when you are breastfeeding or sitting up. However, if your belly binder does not include shorts or a bottom, the additional load can be passed on to your pelvic floor, which is often not ready to support the increased pressure.
For the most help with postpartum recovery, find a c-section recovery garment that includes midsection compression in addition to pelvic floor support.
Belly Binder Tips
Ways to use a postpartum recovery garment to help after a c-section:
When you're breastfeeding: Wear your postpartum belly wrap when you are sitting up to breastfeed your baby. The garment will provide extra support to your back while you are holding baby in the cross cradle, football, or upright feeding positions.
When you're starting to move around alone: After baby is born, there is a lot of movement happening within your abdomen. Your uterus will continue to contract as it returns to its usual size and your organs will be moving back into their normal place. When you're walking or moving around, these internal changes can make you feel unsteady. A postpartum support garment will provide stability and comfort to you during that time.
When you start doing your usual activities: Much of our daily movements are habitual. How you bend to pick something off the floor, the way you move your body to unload the dishwasher, how you hold yourself during physical activities are all habits that we've created over the many times we've done those actions.
Using a postpartum recovery belt will help you re-establish good movement habits as you
resume your usual daily activities
. Good habits are easier to initially establish and much harder to create after your body already has developed a system of doing things, so get your muscle movements off to a good start by using proper alignment and patterns from the very first time.
When to NOT Use a Postpartum Recovery Garment
It is not recommended to use postpartum compression if you are experiencing any complications after your delivery, such as infection in your uterus or at the incision site or preeclampsia. If you experience any physical discomfort from wearing a belly binder or if you notice increased bleeding, make sure you contact your Ob/gyn or midwife immediately.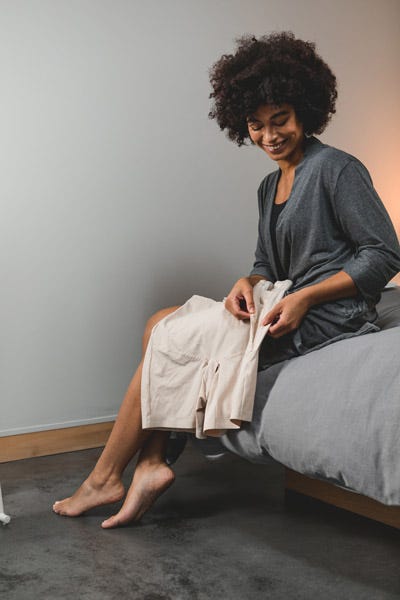 Motif Postpartum Recovery Garment
Reduces swelling and postpartum bleeding
Stabilizes the core to improve posture
Seamless and comfortable under clothing
Eligible for coverage through health insurance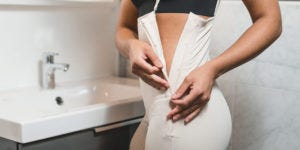 Motif Postpartum Recovery Garment
Reduces swelling and postpartum bleeding
Stabilizes the core to improve posture
Seamless and comfortable under clothing
Eligible for coverage through health insurance
HOW TO BUY
Should I Use an Abdominal Binder?
Using a postpartum support band can be a wonderful tool to help you transition to your post pregnancy life. A belly binder will support your stomach muscles as well as your back to increase your comfort and ability to move around.
The bottom line is that all expecting parents should have one on hand for after the delivery.
Postpartum belly binders
are available on Amazon and other online retailers. Motif Medical's Postpartum Recovery Garment is even an FDA-listed medical device and may be covered by your insurance company.
Sources
Gustafson JL, Dong F, Duong J, Kuhlmann ZC. Elastic Abdominal Binders Reduce Cesarean Pain Postoperatively: A Randomized Controlled Pilot Trial. Kans J Med. 2018;11(2):1-19. Published 2018 May 18.
Ghana, Samieh & Hakimi, Sevil & Mirghafourvand, Mojgan & Abbasalizadeh, Fatemeh & Behnampour, Nasser. (2017). The Effects of Abdominal Binder on Wound Healing and Consumed Pain Medications After Cesarean Section: A Randomized Control Trial. Iranian Red Crescent Medical Journal. In Press. 10.5812/ircmj.44119.
Karaca I, Ozturk M, Alay I, et al. Influence of Abdominal Binder Usage after Cesarean Delivery on Postoperative Mobilization, Pain and Distress: A Randomized Controlled Trial. Eurasian J Med. 2019;51(3):214-218. doi:10.5152/eurasianjmed.2019.18457