Motherhood is a synonym for "busy," and multitasking is our specialty. With that said, hands-free pumping just makes sense. Having our hands free makes pumping less stressful, easier to make adjustments to the breast pump controls, along with other tasks or activities, such as caring for your baby or older children, enjoying a snack, cooking, taking care of a household chore that brings you peace in accomplishing, and so many other opportunities. If you work a desk / office job, and going on pumping breaks is a limited option, saving desk tasks for when pumping is a great solution when you're able to go hands-free.
Did you know?: Multitasking or relaxing while pumping breast milk also takes the attention off of how much milk is pumping, how fast its letting down, and can actually help improve both of those things. How can we do this while still maximizing our breast milk output? Lets discuss getting a comfortable fit with a quality nursing bra that can double as a pumping bra, an effective breast pump, and what to do with your hands during your pumping sessions!
Theoretically, pumping hands-free can be accomplished by any type of pump, and there many options out there to choose from. From silicone hand pumps, wearable breast pumps, to electric breast pumps, including the battery-powered options. Things to consider when hands-free pumping:
What is your goal? Extra milk to stash? Enough to replace a feeding?
Power pumping to build your milk supply?
How do you typically respond to pumping? Do you need emphasis on more suction or comfort and stimulation? Balance of both?
How long will your pumping session be?
What you need to be prepared
The perfect fit
A nursing bra that is also designed to be a hands-free pumping bra needs to be structured to retain its shape, be stretchy enough to accommodate your pumping flanges, while still keeping them comfortably up against the breasts. A comfy fit makes for a much more enjoyable pumping session. Before you checkout, review the size chart when selecting your breast pump bra. You can also see if your insurance/HSA will cover or reimburse you.
Breaking the suction seal from the flanges sagging will be counter productive. This is why a regular bra is not recommended to use to support a pumping session. Make sure the pumping flanges are not pushing in too hard, either. Too much compression can cut off the flow and be incredibly uncomfortable.
Pumping flanges need to be fitted to you, and for each breast individually. Having a flange that is too small or large will not be beneficial. Make sure your nipples have enough room to gently stretch without compressing the areola and without rubbing in the narrow funnel. If you need assistance with measuring, consult with a lactation consultant, as well as reviewing our top tips and faqs for measuring flanges.
"Easy-access" clothing, such as a button-down top or a nursing top can make pumping breast milk so much easier, especially when going hands-free. Not worrying about holding a shirt up or being able to work and pump modestly can help you relax into your session and make things a lot easier.
When getting assembled for your pumping session, it's important to remember to fit the breast shields or flanges into the pumping bra first before attaching to the rest of the pump parts for the setup. For a silicone hand pump, fold the breast shield back and squeeze the bottle as you normally would prior to fitting through the pumping bra.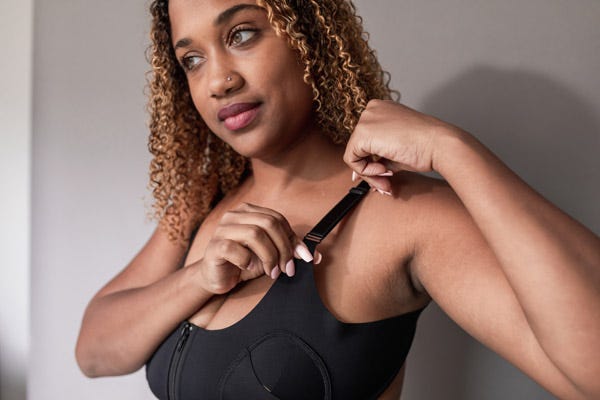 Step-by-Step for how to pump hands-free
1. Wash your hands!
2. Put on the hands-free pumping bra/bustier and adjust to comfort
3. Unzip the front just enough to fit your flange to you
4. Make sure you are putting your flange on the breast prior to assembling the rest of your set up
5. Zip up the bra and continue assembling your pumping accessories, such as the diaphragm, tubing, and the breast pump.
6. Start the pump. There should be a good seal and no milk dripping out. You should feel suction, but not pain as it begins to operate.Hands-free to be hands-on
Once you're set up and ready to begin, you can now use your hands for work, snacking, tending to your baby, or gosh, even reading or relaxing! But one more thing that can really make a difference and be a lifesaver to your pumping routine: hands-on pumping. Now, that sounds contradictory to this article, but the major benefit in "hands-free pumping" is the freedom to incorporate massage and additional pressure to anywhere you need to, which maximizes the pumping session. Massaging helps release and guide milk down the milk ducts, especially in places that are harder to reach or stimulate by pumping, alone.
When breastfeeding, our babies will massage us for this same reason, which is why we do not swaddle during nursing sessions. This is one of many hacks to simulate breastfeeding when pumping.
Simply hold a breast with fingers below, and thumb on top. Push inward toward the torso/spine as if flattening into a symmetric circle and gently squeeze. This step is ideal once the stimulation or massage setting has triggered the letdown/milk flow response, or when milk flow is slowing back down.
Keep in mind that suction can be easy to break if allowed to sag at all or if compression is too close to the flange.
Did you know that Motif Medical has just come out with a new Hands-Free Pumping Bra?