Prioritizing Affordability and Portability, This Introduction Improves Accessibility to Treatment for Neonatal Jaundice.
Motif Medical, maker of insurance-eligible products for modern motherhood, announced the launch of its BiliTouch™ Phototherapy Blanket today. Intended for use in the treatment of infants diagnosed with hyperbilirubinemia, commonly known as neonatal jaundice, the BiliTouch™ is ultraportable, lightweight and battery-powered, ideal for use both in a hospital setting and at home.
Typically, phototherapy blankets cost upwards of $5,000 per unit. Wholesale pricing for the BiliTouch™ begins at $2,999, more than 30% less than any other option on the market. Also, unlike conventional phototherapy systems that are stationary, the BiliTouch™ is designed to be mobile, allowing parents to continue to hold, feed, and care for their baby while reducing high bilirubin levels at home.
"With every product we create, we aim to support mothers on their parenthood journey. This inspired our goal to not only make our phototherapy blanket more affordable for healthcare providers, but to be designed with mom and baby in mind," said Brandon Fonville, Director at Motif Medical. "The result is a superior phototherapy treatment device that can be used in a variety of settings, from hospital to home, while fitting seamlessly into a newborn infant's care."
Notable features for the BiliTouch™ include:
A battery-powered option, making it convenient and ultra-portable

A lightweight design that facilitates bonding between parents and infant

An LED light source eliminates the need for fiber optic cables, allowing for easy positioning. It's also low maintenance and boasts a longer lifespan.

A temperature sensor and an LCD display that clearly shows adaptor and battery status, remaining time, and light intensity

Whisper quiet sound when in use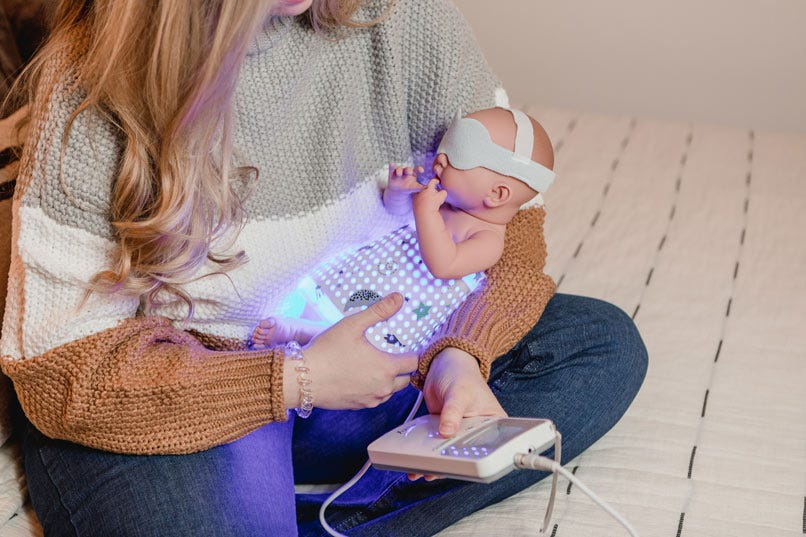 In addition to the BiliTouch™ Phototherapy Blanket, Motif Medical will offer disposable blanket covers and disposable eye covers for use in conjunction with the product, all of which will be unveiled at Med Trade West next month. Providers interested in learning more or becoming a distributor can do so on the company's website here.
BiliTouch™ is just one of Motif Medical's latest innovations. The brand's growing product suite features a full line of maternity compression, including a new 3-Step C-Section Bandage System that launched earlier this year, and its flagship breast pump, the Luna, known among moms and providers alike for its convenience and power. In late 2019, C+R Research conducted a comparison test in which five out of six moms reported more milk in less time with the Luna, and 9 out of 10 preferred it over their current pump.
About Motif Medical
Motif Medical designs insurance-eligible products for busy moms. With a focus on innovation and education, their line of breast pumps and maternity compression garments are sophisticated yet discreet and made to support mothers as they navigate new parenthood. Founded by a team of medical professionals, engineers and working mothers, Motif Medical seeks to ease and improve the experience of obtaining breast pumps and supplies via insurance.
Connect with Motif at www.motifmedical.com, on Instagram and Facebook.
All content published on the Motif Medical site is credited for information purposes only. This information should not substitute as medical advice, diagnosis, or treatment. Always consult your doctor or qualified health professional with any questions regarding the health of you or your baby.