One of the major challenges for moms returning to the workplace after maternity leave is maintaining a healthy, routine breast pumping schedule. Moms need a private space as well as time away from the demands of the job every few hours to pump in peace. It can be difficult to talk freely about breast pumping in the workplace, but ultimately, employers benefit from supporting their working moms. What's more, the law mandates that employers provide sufficient space and resources for moms to pump.
Welcome New Moms Back With A Breast Pumping Room
It's The Breast Pumping Law
Before we get into the breast pumping room how-tos, let's go over the laws.
According to the Family Leave Standards Act (
FLSA
) employers are required to provide reasonable break time for employees to express breast milk for their nursing child each time it's needed for up to one year after their child's birth.
Employers are also required to provide a dedicated space separate from a bathroom and free of intrusion from the public and coworkers for the purpose of pumping.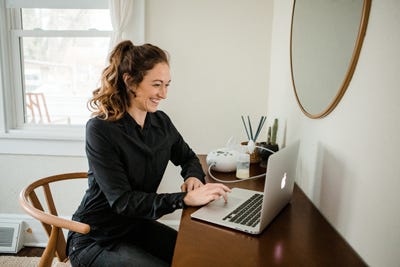 Note:

Breast pumping moms need about 20 minutes to express breast milk every 3 to 4 hours.
How To Discuss A Pumping Room With HR
If your employer doesn't provide the necessary time or space for breast pumping, set a
private meeting with a trusted HR representative
to discuss your needs before you take maternity leave. Allow for enough time for your employer to accommodate your needs.
The
American Academy of Pediatrics
recommends breastfeeding infants exclusively for six months before introducing solid foods to their diet. According to these recommendations, moms should continue breastfeeding for at least a year to maximize nutritional benefits and improve health for both mom and baby.
Breastfeeding Benefits For Baby:
A natural source of nutrition for calcium, protein, vitamin A, and more.
A stronger immune system with lower rates of infections, SIDS, respiratory illnesses, and diarrhea.
Reduced risk of asthma, allergies, and obesity.
Breastfeeding Benefits For Mom:
Breastfeeding releases the hormone Oxytocin which can reduce bleeding and help the uterus return to its normal size more quickly.
Oxytocin lowers the risk of postpartum depression and anxiety.
The risk of developing ovarian, breast, and other types of cancer is reduced.
Breastfeeding saves moms an average of $1,500 during the first year by eliminating the need to buy formula.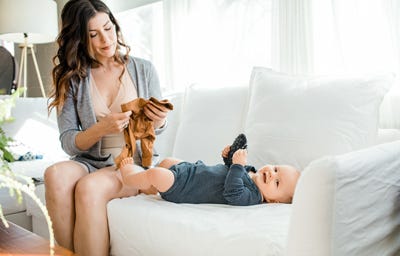 Breastfeeding Benefits For Employers:
Employers often save

$3 for every $1

invested in supporting working moms as it creates happier, more productive employees and decreases turnover rates.
Breastfed babies are healthier, so breastfeeding moms' insurance claims are reduced and they miss fewer days of work due to infant illness.
Savings are generated as fewer pharmacy claims are made.
Katja Pigur, MEd, CLC, Senior Director of Programs and Business Development of
Maternity Care Coalition
shared, "A talented female workforce needs the right tools and resources to be successful. They value the level of care and support that new mothers and families receive from their employer during the important transition from childbirth to raising a family.
Having an available, designated lactation lounge does not only ensure compliance with current legal nursing break accommodation requirements, but also boosts employee health, morale, satisfaction, and loyalty while reducing a company's healthcare costs and ultimately increasing productivity."
Preparing To Return From Maternity Leave
Easing the transition back to work after your maternity leave may be easier if you also prepare in advance, while you're still pregnant. This way you can create a breast pumping plan that covers every possibility instead of winging it when you return on day one.
Find other mothers in your office to connect with. Ask about what they did to make pumping easier and how their managers reacted.
Receive the proper pumping equipment. You'll need your breast bump, a storage bag to keep breast milk cold, storage containers, a method for sanitizing pump parts, and possibly an extra set of flanges to use at work.
Scope out your pumping situation. See if you have access to an outlet or if you'll need a battery-powered pump. See if there's a mini-fridge for milk storage or if you'll need a cooler and ice packs.
Be prepared for accidents. Have wet wipes to clean up spills, an extra outfit in case you need to change, and spare parts in case you forget something at home.
Practice taking your breast pump apart and putting it back together so you'll know how to quickly assemble it. Also, use your pump a few times before returning to work to know how to use it.
Take note of your breast pumping schedule in order to create a flexible pumping schedule with your supervisor at work.
How To Create A Breast Pumping Room
Creating a lactation room for your employees doesn't have to be a long, expensive process. It's actually quite easy to quickly provide what
moms need for comfort
and the ability to express breast milk.
You need a private space that isn't in the bathroom. An empty conference room or office can be converted to the perfect pumping room in no time. Just make sure the space is private with a door that locks or has an "occupied" sign.
Place a comfortable chair for a mom to relax in as well as a surface to place breast pumps and accessories.
Consider adding a minifridge to provide a place to store breast milk that's separate from where employees store their lunches.
A microwave will give moms the ability to sanitize their breast pumps and accessories. Also, consider providing access to running water.
If you have multiple breast pumping moms place a board on the door to allow them to schedule their pumping breaks.
Relaxing lighting, paintings, and baby photos can also help as moms need to be relaxed in order to express breast milk.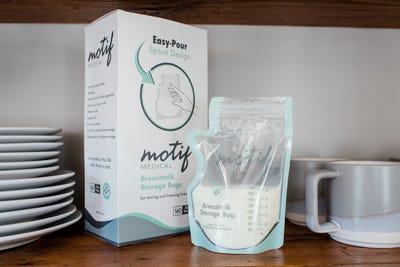 Start The Conversation Today
As an employer, why wait when it comes to supporting working moms? Ask your moms what they need in order to successfully manage their breastfeeding goals and update lactation and maternity policies to ease the transition back to work. Let them know that they have your support and understanding to decrease stress and provide adequate breast milk for their babies.
 Along with increased productivity and healthcare savings, breastfeeding supports the health and moms and babies and may lead to decreased turnover rates and higher rates of employee satisfaction.